Principal Photography Completed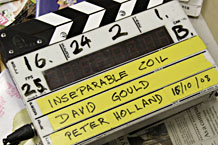 The film was shot in three weeks, starting in the middle of November. The complete team included a crew of over 35 as well as 12 cast and many extras. The majority of the filming included nights shoots at many different locations. The locations included, interior sets shot in a warehouse, a suburban home, an underpass under a four lane bridge, Robina Community Centre, as well as the Mater Mothers Hospital.
Filming was completed using two RED One cameras. The cameras were mounted on tripods, a jib, steadicam, as well as a technocrane.
It was a challenging shoot, with many locations, thunderstorms and the logistical issues that this entails. The cast and crew came through with shining colours making the film an oustanding example of what passion and commitment on low-budget filmmaking can achieve.
Over 20 hours of behind-the-scenes footage was also shot. This is in addition to over 2,500 production stills. A gallery of selected production images has been created.
Click here to view the production stills