Post Production Started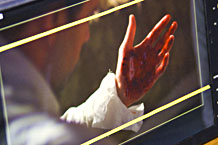 Just a week after principal photography wrapped, post production of the film commenced.
Over 2,600 clips were recorded during the filming amounting to 1.25 terabytes of data. This footage along with the production audio recorded on set was brought into Premiere Pro and logged. The film is one of the first to use the new RED importer plugin that allows the RED footage to be edited natively without conversion to another format, i.e. there is no offline as the footage is edited directly.
Adrian Rostirolla (imdb) is editing the film. His previous work includes the editing of such feature films as Gabriel, Kokoda, The Nothing Men, and Coffin Rock. Adrian was recently nominated for two awards at the Australian Screen Editor's awards.
An original score is being composed by Daniel Sadowski and Regatta Studios will take on the challenging sound design and mix work. Visual effects and grading will be completed in-house at David Gould Studios.