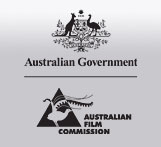 Screen Australia showed their support for the film by providing funding through their Animation Development program. The program is designed to assist animation filmmakers develop materials for outstanding short animation projects.
"Screen Australia have been an absolute pleasure to work with. They have been very enthusiastic about the project and this has made the process of script editing and script writing a very rewarding experience. Thanks to Screen Australia's involvement we were able to secure the services of top notch talent, such as Stuart Page," said David Gould, the director.
Stuart is a professional screenwriter and script editor. He has written the short animated film "Holding Your Breath" for Anthony Lucas. The film screened at Cannes in 2002. He also spent two years as a script editor and writer on the "Blue Heelers" TV series.
Stuart commented, "I became involved with Awaken as part of the development process. There's a wonderful story there, and it's my role to help David realise the potential of his story. David has put a huge amount of passion and work into this project. I'm so looking forward to seeing it realised."